About Dee Theodorou
It is with great pleasure to announce that in collaboration with Legions Fanzine team, our albums "The Ivory Tower" and "Crimson Wreath" will also be released on cassette tape, for the very first time ever! Each cassette release will feature 50 numbered copies.
Official release date is set for June 15.
You can all preorder your own copy by sending a message to ILLUSORY Facebook Page, www.facebook.com/IllusoryBand
Our sophomore album "Polysyllabic" will soon be released on cassette tape as well and make sure you stay tuned, because more announcements are on their way, always in collaboration with Legions Fanzine!

Shine On The Ivories!
ILLUSORY: "Inside the Ivories' Tower" Video Documentary
Started almost thirty years ago… Went through changes. And still happening. Three albums and a respectable number of live shows. At the end of the day, six guys and a wonderful journey.
Alexander Haritakis and SingLoud TV had an idea. Shooting everyday lives led by normal people, who become a music fellowship once entering their own studio, the iCave; their refuge, their hideaway, practically their second home.
ILLUSORY is actually a bunch of souls, creating songs whilst appreciating their own co-existence. It's a heartfelt rockumentary about the past and the present of the future. How it all began, how it's going, how it will be. And then, a simple phrase and a warm motto.
Shine On The Ivories!
Directed, shot and edited by Alexander Haritakis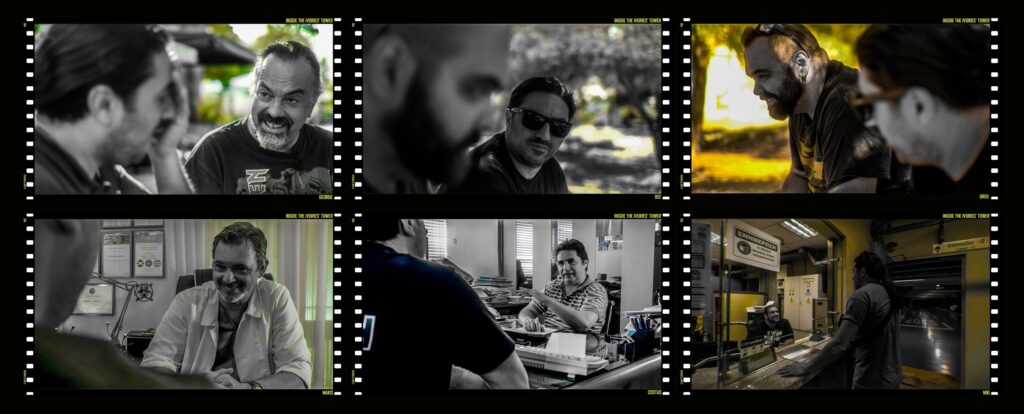 No one knows how tough, how rough and demanding an album making procedure can be, apart from the band itself of course. ILLUSORY have released their third album, "Crimson Wreath", on May 21 via Rockshots Records and this is your official guide to the depths of the unknown. The ideas, the brainstorming, the tension, the arguments, the recordings, the final touch. iCave and Matrix studios, the Ivories and a bunch of wonderful guests. The agony, the fun, the pleasure of the birth of a record. A labor of love transcribed into 78 minutes of music by a Heavy Metal band deeply respecting its roots.

The band started working on the album in November 2017. The previous year was truly busy, with the release of their sophomore album, "Polysyllabic" and their live obligations. The members remember: "We started with the drums sessions, every Monday, Wednesday and Friday, for a period of four weeks. New ideas appeared, new things were happening, enthusiasm was touching the roof. It was a new beginning… again".

During this video, the Ivories are sharing their beliefs about the album, their sound, their general view about music; especially Heavy Metal music nowadays. The boys are talking about their musical relationship as well as their friendship and the whole ILLUSORY fellowship. They also reveal studio stories and how things evolved during "Crimson Wreath" recordings and they even publish bits and pieces from that creative procedure era. The band wishes to work "out of the box". Naturally they are taking the high road and naturally this album is the solid proof regarding their selection. It can be described as a journey to the Ivory Tower itself. Or, as the band likes to say, a journey to the Ivories' Tower…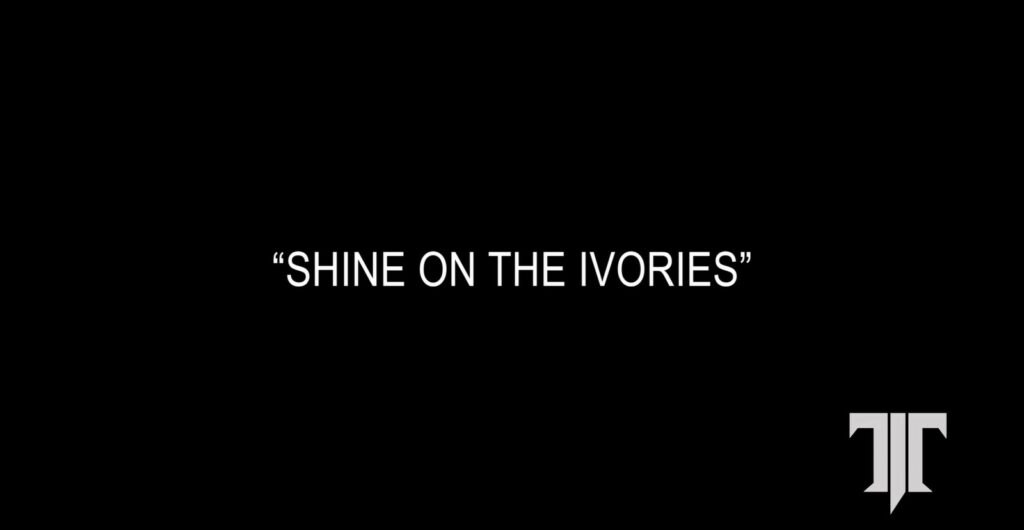 What is the worst nightmare you ever had?
The following can be a question. Or is it the affirmative rhyme? An incubus crouched on your chest. A darkened horse. A sweating canvas portraying disharmony within perfect silence. A war raging inside a dream.

ILLUSORY's fifth video is being unwrapped around "A Poem I Couldn't Rhyme". Taken off the band's third album, "Crimson Wreath", released on May 21 via Rockshots Records, this is a reminder of a motif painted with the brightest colors, yet surrounded by a halo of Erebus.
"Taking a look inside me, I only see a glimpse of my youth
Seeking a place to hide me, I need to stay away from the truth"

Heaving riffing, mid tempo endoskeleton, speed variations and climaxes, intriguing orchestration. Much like Henry Fuseli's painting "The Nightmare", this storyboard is all about the subject that's waking up whilst the bad dream has just begun. ILLUSORY's illusions are taking over.
Lyric Video by Manos Fatsis
Artwork by Panagiotis "Hammer" Sfiris
Pyrisous, Aeacides, Aemonius, Aspetos, Larissaeus, Ligyron, Nereius, Pelides, Phthius, Podarkes…
Some of the names of the greatest warrior of all time. The myth amongst the living and the departed. Achilles, the main character of Iliad, the glorious king, the fearless leader, the ideal soldier…
On the other hand, the allegory… He who wanders in grief, Homer's epic poem in the hands of the righteous, catapulted in a dystopian reality, becoming a cultural heritage for the future.
ILLUSORY presents "Ashes To Dust", a heroic rhapsody, taken off their third album, "Crimson Wreath".
Illustrious actor/director Grigoris Valtinos is the leading man in a story which exemplifies the essence of a fable across a path walked by the bravest and honored by the scholars of the world. This short film is about an epic manifesto, a darkening day to come and everlasting hope.
Director: Maria Chatzigianni aka M-Word
Cinematography – DOP: Markellos Plakitsis
Assistant Director – Kinesiology: Ioanna Korina Palaska
Wardrobe: Despina Chimona
Hair and Make-up: Elena Theodorou
Production Assistant: Kalliopi Karamani
Backstage Photographs: Cristina Alossi
Starring: Grigoris Valtinos and Deedinos Theodorou
Artwork by Manos Psakis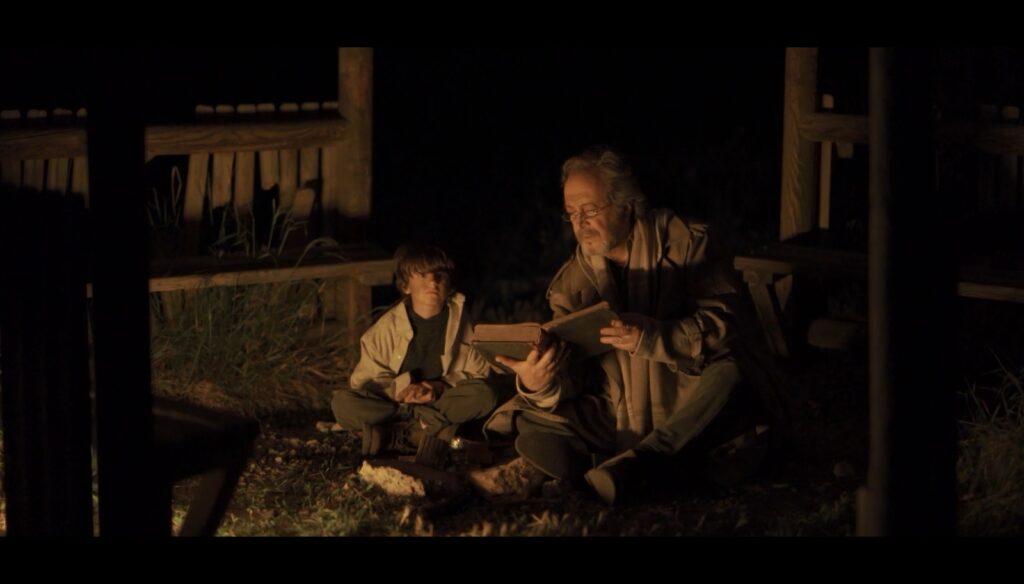 "I'll fight even fame, Achilles my name"
Brand new ILLUSORY video clip premiers on TV WAR @ Mad TV
"Ashes To Dust" video clip is ready to spin next Sunday, June 20, on the longest running music show on Greek television. TV WAR, Greek Metal Hammer's own, the Metal media locomotive, will host the world premiere of a grand production, featuring world renowned actor/director Grigoris Valtinos.
Sunday, June 20, at midnight on Mad TV. Don't miss it!
Director: Maria Chatzigianni aka M-Word
Cinematography – DOP: Markellos Plakitsis
Assistant Director – Kinesiology: Ioanna Korina Palaska
Wardrobe: Despina Chimona
Hair and Make-up: Elena Theodorou
Assistant of Production: Kalliopi Karamani
Photographs: Cristina Alossi
Starring: Grigoris Valtinos and Deedinos Theodorou
ILLUSORY's third album, "Crimson Wreath", is out today via Rockshots Records. The Heavy Metal band from Athens is proud to release a record consisting of 78 minutes of music, which has already been gaining massive acclaim by the Press and fans, locally and abroad.

"Crimson Wreath" is considered as ILLUSORY's most mature and complete work, comprising of fourteen songs, showcasing the Ivories' songwriting and arranging dexterities as well as advanced performing skills.

Heavy duty production, mixing and mastering, once again in and by Matrix Recording Studio, Athens, proved that this unique sound can be achieved when the band teams up with producer extraordinaire and practically the seventh member of ILLUSORY, Yiannis Petroyiannis.

With three singles/videos released up to date and a fourth one on its way, ILLUSORY's brand new album is the very definition of hard work in pure music terms.
———————————————————————————————————————————–
The Press about "Crimson Wreath":

"It's about a multifarious work, with an admirable flow".
Kostas Lyros, Metal Hammer – Greece

"Adding choirs, classical and acoustic guitars and piano sections can only show that it is a matter of well-coordinated experienced musicians who put quality first. I can say for sure is my favorite and candidate for the album of the year, even though we haven't even gotten close to half of it yet".
Ivona Bogner, Abaddon – Serbia

"Give ILLUSORY a listen, because this is actually one of the best this reviewer has heard in a long time".
Gert Beuse, Calles Rock Corner – Denmark

"This album probably deserves performing in its entirety live at some point and the more I listen the more I like. Deep, melodic and brilliantly written, this is top notch stuff".
Simon Black, Ever Metal – UK

"Despite a run time of over 75 minutes, not once does the album drag. Rather, you can't believe it when the album is over because you want to keep listening. I strongly feel that not only is "Crimson Wreath" one of the singular best albums you could hope to come across this year, but it will come to be seen as ILLUSORY's magnum opus release"!
Jay Roberts, Knac – USA

"ILLUSORY has produced a very enjoyable album. Its melodic qualities are perceived without any difficulty. The production was at the height of the compositions, without any instrument being relegated or buried. Hopefully the conditions allow the band to go on stage very soon, as it will definitely be interesting to listen to the songs on this album live".
Cristóbal Torres, Metal Rules – Canada

"In general words, I would say that "Crimson Wealth" is a long, but rewarding album, which will gratify every heavy/power metal fan. It's the most mature work of ILLUSORY, who are getting a pure power metal musical direction. Sometimes epic, sometimes proggy, ILLUSORY find their target, offering us a great power metal offering".
Dimitris Zacharopoulos, Myth Of Rock – Greece

"Crimson Wreath will hopefully open up ILLUSORY to a bigger audience because they really deserve to be heard by fans of heavy power metal".
Matt Bladen, Musipedia Of Metal – UK

"This incredible band have created sounds and lyrics and placed it together in such a way that there is no true and real way that my words in this review could ever do "Crimson Wreath" justice for its true original take on melodic and heavy and true metal. I can only hope everyone in the world gets a chance to experience this individual intertwined essence from within".
Zoe Stone, Rock Out Stand Out – UK

"Give the album its due time and you won't regret it. You will always come back to it, to constantly find new things. Listen to it in its entirety and let yourselves go to all the thing the record has to offer you. Until the time comes for us to enjoy the album live on stage, I'm pressing the play button once again. I suggest you do the same".
Jovanna Spiliou, Noizy – Greece

"Throughout, this masterpiece still sports the very same dynamic of the day, with a rich flow of lyricism taking us on a journey of fantasy, myth, mystery and far off lands steeped in history, transporting us all into the realms of thought as the band speed down the track like a runaway train".
Ian Davies, Stargazer – UK

"This awesome album has so many touches of feelings that takes you back to familiar chords and makes you feel it once again with another way".
Costas Margaman, Album Reviewz – Greece

"As previously stated, "Crimson Wreath" is an album that you listen to with pleasure and of which you cannot fail to appreciate the quality of writing and attention to detail; if you grew up on bread and heavy metal, this record will surely give you joy".
Alessia Artesani, Metallus – Italy
ILLUSORY's third album, "Crimson Wreath", features the band's musical and lyrical excursions and vast melodic essays as well as the contribution of a number of amazing musicians, joining forces with the band and participating in certain key notes which became a highlight throughout the making of the record.

Naturally these artists should be mentioned, and they are, one by one.

Narrators: Grigoris Valtinos, Paul Logue
Vocalists: Anastasia Papadopoulou (Upon Revival), Gregory Koilakos (Fortis Ventus), Mary Tirou, Nancy Moschopoulou (Fortis Ventus) and Ophelia Baudelaire
Instumentalists: Alexandros Roumeliotis – piano, Dimitris Fakos – acoustic & classical guitars
Choir on "The Isle Of Shadows" and "Fortress Of Sadness": Anastasia Papadopoulou (Upon Revival), Gregory Koilakos (Fortis Ventus), Nancy Moschopoulou (Fortis Ventus) and Ophelia Baudelaire
Soprano Parts on "Fortress Of Sadness" by Nancy Moschopoulou (Fortis Ventus)
Additional Vocals on "Fortress Of Sadness" by Ophelia Baudelaire
Lullaby Intro on "Agony's Last" by Mary Tirou
Classical Guitars on "Acedia" and Acoustic Guitars on "The Isle Of Shadows" by Dimitris Fakos
Piano on "All Shall Fade", "Fortress Of Sadness" and "Past Forever Last" by Alexandros Roumeliotis
Narration on "Ashes To Dust" by Grigoris Valtinos
Narration on "Acedia" by Paul Logue
Gang Voices by the Ivories & Gregory Koilakos (Fortis Ventus)
Art cover designed by Panagiotis "Hammer" Sfiris
Design / Layout by Panagiotis "Hammer" Sfiris
Photo processing by Manos Psakis
"I refuse to accept the view that mankind is so tragically bound to the starless midnight of racism and war that the bright daybreak of peace and brotherhood can never become a reality… I believe that unarmed truth and unconditional love will have the final word in reality." Dr. Martin Luther King Jr. [Nobel Prize acceptance speech, 1964]

Third single/official video release off the third album "Crimson Wreath".
Song "All Blood Red" debuts today as a lyric video, showcasing another side of the multi-layered album, musically and lyrically. Focusing on the global nightmare of racism, "All Blood Red" can be a cry-freedom statement and valuable food for thought. "When all is lost, all blood is red" is to be considered alongside the phrase "There is NO such thing as race. There is JUST a human race", to quote nobelist Toni Morrison.
Listen, enjoy, THINK and Shine On!
Lyric Video by Christ Stergianidis
Artwork by Manos Psakis
"Crimson Wreath" album out on May 21 via Rockshots Records
Album pre-order: http://bit.ly/CrimsonWreathCD​​